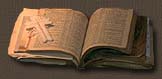 Richard Yeilding Bible
Submitted by
Lisa Wilson
The Yeildings settled in Blount Co., AL between 1812 and 1819. From 1795 to 1810, Richard Yeilding was at Walnut Creek and Green river, Rutherford Co., NC. He served in the Revolutionary War from 1778-1781, in the 3rd VA Dragoons, Col. William Washington's Cavalry. A military plaque was supposed to have been placed in his honor in Blount Co., Alabama. In the dedication speach for the placement of this plaque it states the plaque had not been received by the dedication date. This plaque has yet to be found in a Blount Co. cemetery. It is doubtfull it was ever placed.

In 1819, on May 20, Richard purchased land in Lawrence Co, Alabama Territory, Sec. 23, Twp. 6, Rng. 9W. Then on July 6, Richard and his son Francis purchased land in Blount Co., Alabama Territory, Sec. 27, Twp. 10, Rng. 1E.

In 1820, Richard was appointed with others to supervise the erection of public buildings in the Blount County Seat of Blountsville. In the 1840's he and Nancy were members of the Siloam Baptist Church in Royal, 6 miles east of Blountsville. The church is now the Church of God of Prophecy, Royal, Alabama.


===================
Bible of Richard Yeilding
The transcriber of these bible records is unknown to me (Lisa Wilson). I have not seen an original copy of this bible, so therefore I do not know exactly how these records were entered. I am typing them exactly as was transcribed. I am sure this transcriber edited these entries. There would not have been reason to write out dates and put them in numerical dates on the same entry. The transcriber added their own Editor's Note at the end of these entries.

Page Ia
Richard Yeilding born April the 26th one thousand seventeen hundred & sixty eight or 1768 & Milly his first wife was the same age that bore children as follows

Devinea Yeilding daughter of Richard & Milly Yeilding was born the twentieth of November about 9 or 10 Oclock on Sunday morning & in the Year of 1790

Page Ib
Richard Sander son of William Sander & Devinea his wife was born the 20th day of May 1808 about 9 Oclock in the morning of a Friday & deceased in February the third in 1809

Menervy Sanders Daughter of William Sanders & Devina his wife born February the 4th 1812

Mahala (r?) Sanders Daughter of William Sanders & Devina his wife born February the 4th 1812

Page IIa
Francis Yeilding son of Richard Yeilding & Milley his wife was born the 21st or twenty first day of December about sun up on Thursday, date 1792.
,br> Richard Yeilding son of Richard J. Yeilding & Milley his wife was born the seventeenth day of March on Tuesday 1/2 or 3/4 of an hour before day, date 1795 or one thousand seven hundred & Ninety five

Page IIb
John Yeilding son of Richard Yeilding & Milley his wife born about 3 or 4 Oclock of a Tuesday morning on the fourteenth of February, date 1797

the next was Rachel, deceased

Elizabeth Yeilding daughter of Richard Yeilding & Milley his wife born on Friday about sunset the twenty fourth day of July, date 1801

then a miscarriage at about seven months

Page IIIa
Francis Yeilding & Betsy Williams was married on the 3rd of May 1821
(Editor's note: The name Williams was written over what was apparently another name. The origin of the name is unclear. Betsy's surname is given as Earles on the marriage license in Blount Co., AL)

Nancy Tailor Yeilding daughter of Francis Yeilding & Betsy his wife was born on Sunday about 2 hours by sun in the after noon & on the 26th of May 1822

William Berry Yeilding son of Francis Yeilding and Betsy his wife was born on Thursday morning about sunrise & on the 8 of July 1824

Page IIIb
Joel Sanders son of William Sanders & Devina his wife was born the 7th April 1814 & on the 19th of October 1814 Devina Sanders Deceased _ _

John Yeilding and Nancy Billingsley was married in November the 23, 1819

Elizabeth Yeilding daughter of John & Nancy Yeilding his wife was born on Tuesday the 14 of November 1820

Page IVa
DEATHS: Richard Jackson Yealding Departed this life the 31st of August 1859

William Berry Yealding departed this life March the 7th 1864

Page IVb
23rd 1838 and depar_ _ life on Wednesday the 1st day of May 1838

Nancy Yeilding Wife of Richard Yeilding departed this life October 3rd 10 Oclock 1858

Richard Yealding (Senr?) departed this Life February the 27th 1864

Editor's Note (not Lisa Wilson): These pages are probably only a portion of the Bible; however, it supplies very valuable information. Perhaps the remaining parts of the Bible can be located and more information clarified. There appears to be at least three different scripts in the writing, although two of these could be the same script which has changed with the increasing age of the individual who entered the information. The author thinks that the Bible most likely belonged to Richard and Milly Yeilding and then was passed on to Francis Yeilding and was then probably given to one of the descendants of Francis and Betsy Earles Yeilding.