Welcome...

Kittson County is the northwestern-most county in the State of Minnesota. The county seat is Hallock, located along the Red River of the North. The western part of the County, which is part of the fertile Red River Valley, produces bountiful crops of wheat, barley, sugar beets, sunflowers, canola, and soybeans. The eastern part of the county is known for its abundant wildlife population. Agricultural endeavors in this part of the county consist of ranching, hay land and small grains.

The county is named after Norman W. Kittson, an early fur trader and partner of the American Fur Company. He increased the fur trading traffic significantly by increasing the use of oxcarts. He was also responsible for the pioneering of the steamboat in the Red River and was active in the development of the railroad. His contributions played an important role in the settlement of the county. The county was officially organized on February 25, 1879, having been part of the Pembina District prior to that time. The county also included the western portion of what is now Roseau County until 1894.
---
Hi, I'm Colleen, the county coordinator for Kittson County. If you have anything to contribute, any suggestions for inclusion on the site, or simply want to send a friendly greeting, just email me! I'd love to hear from you.
Our MNGenWeb State Coordinators is Tim Stowell with Karen De Groote our Assistant State Coordinator. If you would like to join us, have a look at the counties page. Should your county of choice already be adopted, Tim keeps a waiting list she can add you to.
NOTE: I do not live in Minnesota and am unable to help you with local research.

---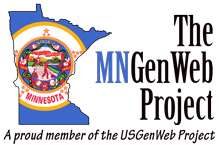 20221004